Snowmobilers paradise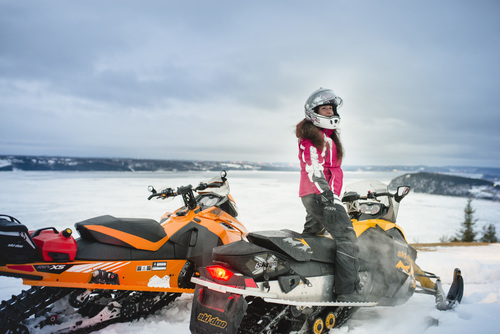 Enjoying the cold winter to go on an expedition on your snowmobile is a feeling of freedom and ecstasy that is not yet forgotten! Snowmobiling is one of the most popular recreational activities in Saguenay-Lac-Saint-Jean. The trails, the accommodations and the restaurants offer such incredible experiences that people come from far to explore the snowmobile trails of our beautiful region.
Many trails are maintained so that snowmobilers can enjoy an extraordinary experience. To experience an incredible trip, there are some good things to know to live an invigorating and good winter experience that will remain etched in your memory forever.
Practical information for a carefree trip
There are 13 snowmobile clubs in the region that cover 3,794 km of trails, so it's no wonder why our beautiful region is also called the snowmobile paradise!
The main trails of the region:
23 at Alma (North) and Réserve faunique des Laurentides (South)
93 in Chibougamau (North), Monts-Valin and Sacré-Coeur (South)
83 in Ferland (east), Saguenay and Sainte-Hedwidge (west)
383 near to L'Anse-Saint-Jean
328 in Sainte-Rose-du-Nord
373 in Roberval
The snow in Saguenay-Lac-Saint-Jean lasts approximately 5 months; From mid-November to mid-April, it is possible to see snow in our beautiful region. The snowmobile season can therefore last a very long time for leisure enthusiasts.
Good to know: Access fees 2020-2021
To access the snowmobile trails, you must have access rights to the trails. Some fees are for the year, others are for a day and some are for equipment rental.
$ 340 for an annual access fee purchased on or before December 9, 2020
$ 420 for an annual access fee purchased after December 9, 2020
$ 640 for an annual access fee sold on trails *
$ 260 for an annual access fee for antique snowmobiles (2001 and older snowmobiles)
$ 220 for a 7-day access fee $ 135 for a 3-day access fee
$ 65 for a 1-day access fee
$ 580 for an access fee for a rental snowmobile
Access rights are sold online by the FCMQ ( La Fédération des Clubs de Motoneigistes du Québec ).